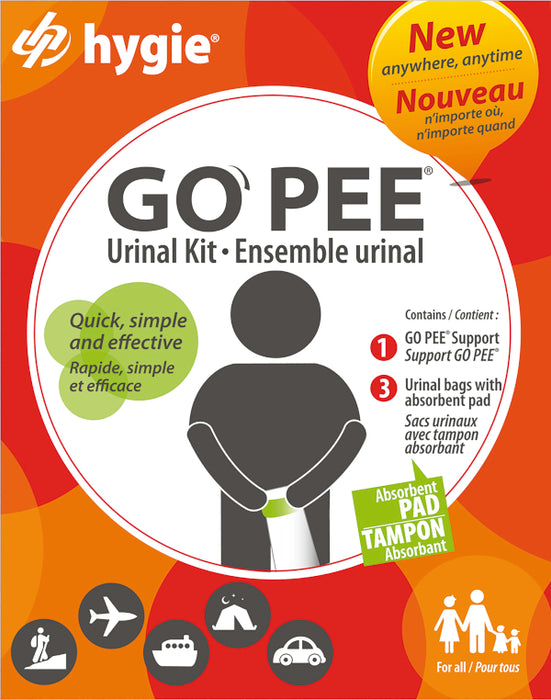 GO PEE kit urinal
Original price
$9.74
-
Original price
$9.74
Availability:
in stock, ready to be shipped
1 support urinal avec 3 Enveloppes hygiéniques® - sacs urinaux avec tampon absorbant
Description
Un produit 100% hygiénique, 100% discret et fait de matières recyclées. En plus d'avoir un nom des plus sympathique le GO PEE®.
Ce petit système simple et compact consiste à un sac hygiénique qui recouvre un petit anneau de caoutchouc.

Dans le sac se trouve un tampon superabsorbant qui par magie gélifie le liquide en quelques secondes. Les femmes peuvent enfin faire pipi debout, simplement glisser sous la jupe ou glisser dans le pantalon.
Après avoir utilisé, simplement retirer le sac de l'anneau (qui en passant restera toujours propre car il est protégé par le sac hygiénique) et faire un noeud avec les cordons. Étant donné que le liquide est gélifié vous pouvez le disposer dans votre sac à dos, il sera sans odeur et surtout sans dégât.
Shipping and returns

These rules apply to all our products except in special cases (see product details).

Return policy: online purchases

1-All returns must be authorized by Customer Service.

2-The return form must be completed for each return of goods.

Click here to download the form.

3-Each return request must provide the following data:

Customer name and address
Invoice number
Invoice date
Customer purchase order number
Quantity, number and description of the item
Reason for the return
Batch number 
Expiry date

4-Shipping of the return will be coordinated with Customer Service, which will notify the customer of the transportation method and the place where the goods are to be shipped. A Return Merchandise Authorization (RMA) number will be issued and must be clearly indicated on the box(es) with the returned goods. The return must be made within 3 days of the RMA being issued. The refund will be made once the goods have been received and verified to our satisfaction.

Hygie Canada reserves the right to charge shipping, return and restocking fees on returned items. Products purchased on promotion and/or products that become unsellable once opened are not refundable for hygiene reasons. Modified or discontinued items cannot be returned.

Initial shipping costs are non-refundable. For purchases with free delivery, shipping charges will be deducted from the refunded amount. 

5-Goods ordered in error will be returned and subject to a restocking fee of 25% of the total invoice amount, and transport costs will be charged to the customer.

Certain products, such as the Facili-T™ folding commode, may be returned within 10 days of receipt of the order, in perfect condition for resale, with the tie-wrap intact, in its original unopened packaging, along with all documents, manuals, parts and accessories.

6-Goods shipped by mistake will be returned at the expense of Hygie Canada, which will choose its own carrier.

7-No returns will be authorized in the following cases:

Products that have expired, or will expire in less than 6 months
Partial sales units
Goods with an invoice date 20 or more days ago
Products opened or taken out of their original packaging

8- Hygie undertakes to cover the costs of transport and replacement of items if it is its own mistake.

Customer Service

logistic@hyindustrie.com

450 444-6777